It's that time of year again! The lovebirds are singing, the flower shops are selling, and the single people are crying. Yes, it's Valentines day. Today, Valentine's Day is a holiday that you either love or hate, there really isn't much in between. February 14th is the day where couples get to show each other how much they care about each other through gestures like cuddly teddy bears, sweet boxes of chocolate, fun balloons, beautiful bouquets of flowers- the list goes on and on. It's when Cupid comes around and shoots his arrows, but only at the people already in relationships it seems?
"I love you." "I love you too." Three simple little words that everyone longs to hear, especially around the 14th of February. Three little words that are now the epitome of Valentine's Day.
Now normally you'd imagine this exchange to be from a loving couple of some sort, but who ever said it had to be? On Valentine's Day there are so many other people and places that you can feel love from, not just a significant other. Your friends: they're always there for you and I've learned that the best ones are even better than a S.O. Your family: they might not give you the excitement you're looking for but they'll always love you no matter what. The music you like to listen to: I'm sure that you have that band or artist who have gotten you through a lot so, turn it up and have a private dance party. The sport you like to play: surround yourself with the people who do what you love and have fun. There are countless other ways that love is present without having a significant other.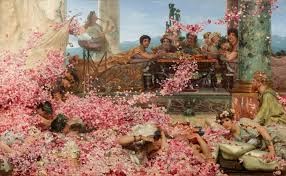 If you're someone who is single and is on the end of the spectrum that despises "Love Day", you should know you definitely aren't alone. There are plenty of others who feel the same way. Whether you've just gone through/are going through a difficult breakup, pining over someone you'll never have, or whatever else you may have against the holiday, just remember there are other ways to celebrate it; the most common being having a nice Galentine's Day with your best friends!

The pagan interpretation of Valentine's Day, however, is one of fertility, rather than of love. Lupercalia was a festival meant to honor Faunus, the roman god of agriculture, along with founders of Rome, Romulus and Remus. To begin the tradition, members of the Luperci (roman order of priests) would congregate outside the sacred cave that is believed to have held infant Romulus and Remus who were said to have been raised by a she-wolf, or a lupa. At the sacred site, the priests would sacrifice a goat, symbolic of fertility, and a dog, symbolic of purification. The hide of the goat would then be dipped in the blood and taken around the village to lightly slap young women and crops with the blood of the animals, believing that this would make them more fertile in the year to come. According to legend, later in the day all the young women in the city would put their name into a large urn and the bachelors of the town would choose a name. Their pairings usually turned into marriages.
Whichever legends you choose to believe is up to your choosing when it comes to why you celebrate Valentine's Day, but today it is a holiday to celebrate love not only between couples, but between friends or families. While the holiday is commercialized to be all about couples, it doesn't have to be. Some of the strongest love you can have in your life is that of your family and your friends. These are the people that accept who you are and love you for being exactly that.

V-Day Fun Facts:
The world record for the most simultaneous kisses was achieved in 2009 in México City when 39,897 couples, friends, and families gathered and kissed for 10 seconds
All year long, 75% of all chocolate sales are from women, but leading up to this day, 75% of chocolate purchases are made by men (scrambling for a last minute gift?)
Over $1 billion of chocolate is purchased for Valentine's Day
February 14th was formerly thought to be the first day of mating season for birds
M&M's heart: m01229, 26 January, 2013
The Roses of Heliogabalus: Lawrence Alma-Tadema, 1912
Lovebirds: Ripton Scott, 12, June 2008