Return to the Nest
Return to the Nest
By Itzel Ramirez, Emily Quirarte, & Lynette Sepulveda
Ah yes, the smell of fresh school supplies, football games, and boring icebreaker games. Back to school season is always a wild time and I think we can all agree that summer 2018 lasted less than two seconds as everyone was wrapped up in summer assignments, school, practices, and festivities. With the sadness of the end of summer comes the joy of new classes, teachers, peers, and a whole year ahead of us to do big things.
The first day of school can always be overwhelming and nerve-wracking for some people. However, other people feel confident and excited about the new school year. We interviewed some people to see how their first day of school went and noticed everyone's answer was a bit different.
One freshman that we talked to, Yamileth Rios, was a bit nervous about her first day. "I expected my first day to be a little scary because I didn't think I would know where my classes were and I didn't know many people at Cal. My first day went well. I was scared but as the day went by I felt better. I do like my teachers, they're all really nice." She also told us about how she thinks her first school year will be somewhat challenging, but she's certain that she'll be able to push herself to do the best she can and that she'll have a great year.
"I expected my first day to be more like the movies, but I came back to reality and it was chill getting to see all my friends. My first day was cool. I do like my teachers, they're chill." Samantha Marrufo, a sophomore, told us about how she had to start getting ready for the school year by going to sleep earlier since she has morning practices for cross country. She added she just hopes her school year goes well.
When we interviewed Skyler Reyes (12) about her first day of school, she said, " I was more excited to like a fresh start, and get involved in more things than I was the past two years. I look forward to making new friends, since a lot of my old friends graduated, and hopefully getting a 4.0 by the end of the school year. I expected the first day to be a little chaotic, just because it's a lot of new teachers and a lot of new classes, but it was actually a lot more chill than I thought it would be. Everyone was pretty cool, parking sucked, but it was fun." She talked about how this will be her first full year to be on the class council and how she's excited to help out with the night rally and plan prom. "I think everything is going to be better than last year, I feel like I have a better schedule, I like my teachers more this year, I made a lot of new friends this year that I'm going to have through the next two years, so I think it's going to be better overall." Skyler also said that at first wanted to make changes to her schedule, but she thinks that it's for the best that her appeal didn't work out.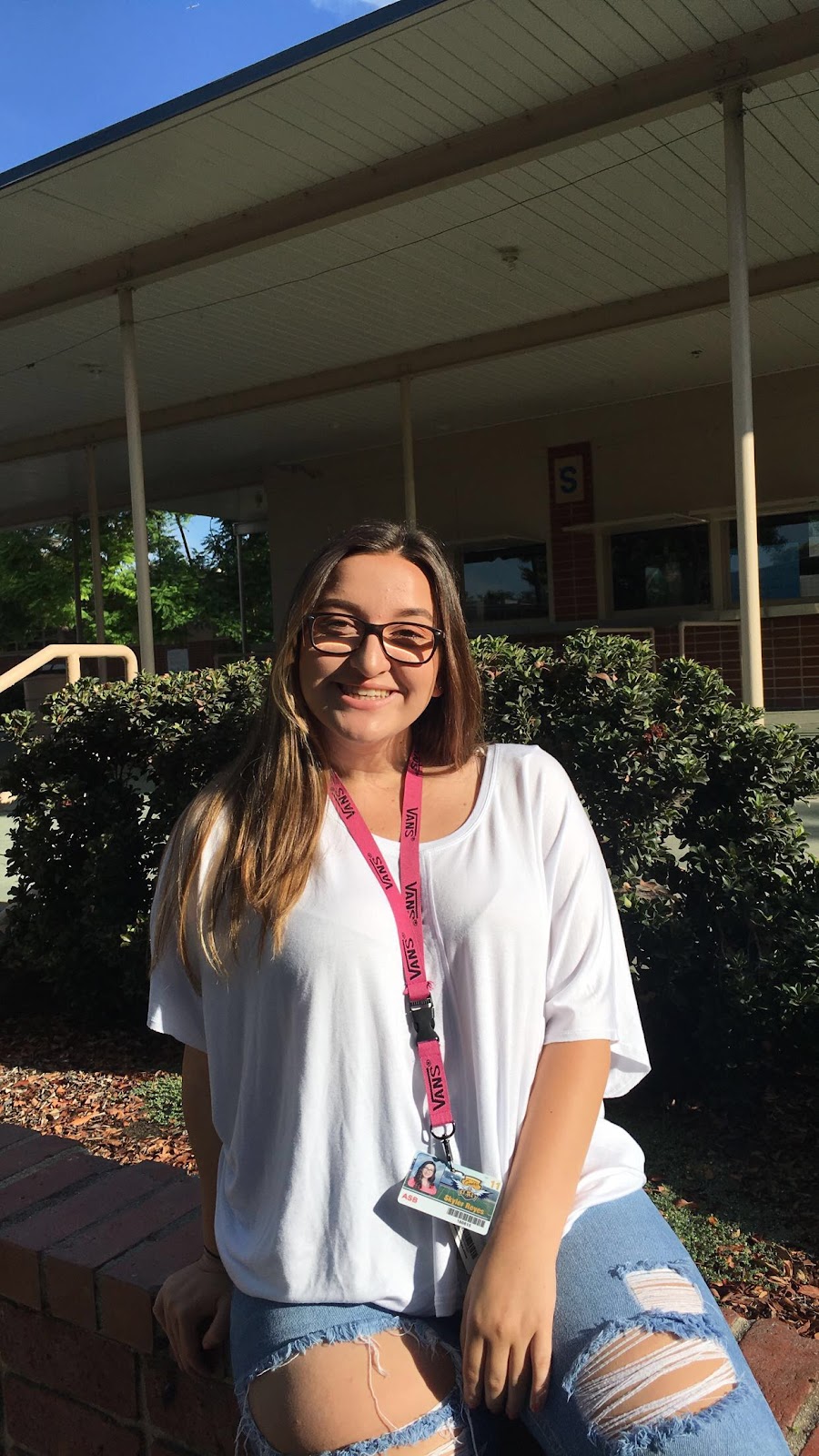 Lynetter Sepulveda 2018
The next person we interviewed was a senior named Josh Espinoza. "I was pretty excited, you know, senior year, it's pretty cool, you just want to end the year right. I look forward to having fun with my friends, making memories, going to like last things. I thought the first day was going to be a bunch of pictures, just having fun, laughs. I plan on going to more of the games this year, all the dances and you know making more memories I guess." And when we interviewed another senior named Carlos Ornelas, he said, "I expected the first day to go more calm, for one because all my older friends had left, unfortunately, the day was much crazier than I expected because of my mentor class. My day overall went well. I had no drama and no stress, it felt good to get back into things. All my teachers are great and funny. And my classes did interest me, I got all the classes I wanted including ceramics. They're all interesting and fun."
Overall, it seems that everyone had a pretty alright day. The first day of school is always hectic but getting back into the routine of it is always exciting because you never know what the new school year will bring.
Leave a Comment
Donate to The Condor Insider
Your donation will support the student journalists of California High School. Your contribution will allow us to purchase equipment and cover our annual website hosting costs.