When do Condors put up their Christmas Trees?
By Cynthia Ibañez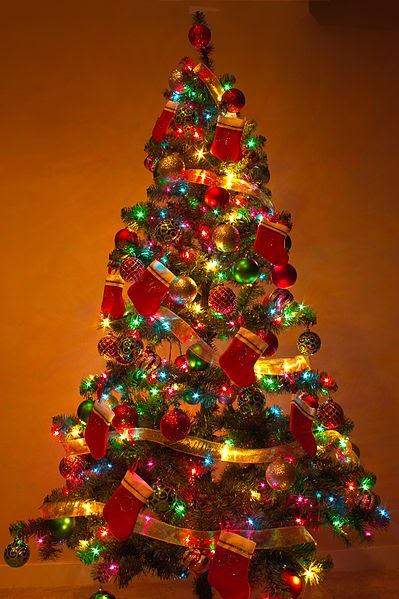 Happy December Condors! Many people will say that it is now the official start of the Christmas season; others may argue that Christmas started on November 1st once all the Halloween decorations were put away. Maybe you enjoy your Turkey day dinner while looking at your beautifully decorated Christmas tree, or maybe you have to be said and done with Thanksgiving to even think about a Christmas tree! This holiday season, which will definitely come with changes, some people are ready to dive right into 'the most wonderful time of the year' and fill their houses with holiday joy. A few students were asked when their families start to decorate for the holidays and here's what they said:

America Barrera (12) said that her family gets their tree anywhere from the beginning of December to Christmas Eve! "We have to be in the Christmas spirit somehow", she said. Aside from her family's tree, America also decorates her room accordingly and has had her mini Christmas tree up for weeks already, getting a head start on holiday cheer.
Freshmen, Mia Jen, also said that her family varies on when they get their tree. Her family puts up a tree, "a few weeks after Thanksgiving". This family waits until Thanksgiving season is over to start celebrating Christmas.

On the other end of the spectrum, some students and their families start decorating before December. Karla Padilla (12) and her family, however, waste no time putting their tree up after Thanksgiving. She says, "Mine is up, we did it after we ate Thanksgiving dinner!" Extremely efficient. May I say. Similarly, Emiliano Pelayo (12) said, "My family usually puts it up before Thanksgiving because that's when my mom starts decorating everything all Christmasy." Starla Flores (11) said that they have had their tree up since two weeks before Thanksgiving! And Mallory Camacho (11) said her family put their tree up the weekend after Thanksgiving, just like how my family and I do.
So whether you've been anticipating Christmas or are still eating the Thanksgiving leftovers, it's always a good time to put up your Christmas tree and spread a little holiday joy. Do any of these Condors' traditions match up with yours?! Whatever you do for the holidays, be safe and have fun!
Happy Holidays from Nest News!

Leave a Comment
Donate to The Condor Insider
Your donation will support the student journalists of California High School. Your contribution will allow us to purchase equipment and cover our annual website hosting costs.